Brea-Olinda Boys Basketball
Elliott Johnson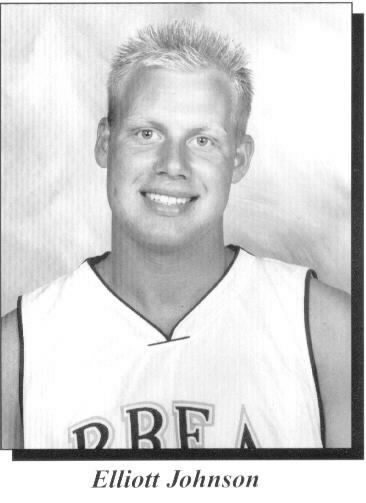 #55...Elliott Johnson...senior...foward...6-1...190. Elliott is playing his first season at the varsity level. He averaged 6 points and 8 rebounds on last years junior varsity. He has been a starter for all three seasons he's been a wildcat (one on freshman and two on junior varsity). He was selected to the all tournament team in last year's Troy tournament. He scored the last 6 points against Valencia High School last year to help the junior varsity go undefeated in league last year.
Elliott is a very crafty and smart player. He play's with great intensity. He also takes that intensity to other sports as well. He is a member of the varsity water polo and swimming team.
Elliott currently holds a 3.3 GPA. He enjoys coaching kids in basketball and baseball for the City of Brea and also has been a NJB referee for two years.