Brea-Olinda Boys Basketball
[Varsity]
[Assistant Varsity]
[Junior Varsity]
[Sophomore]
[Freshman]
[Homepage]
Coach Adam Fitzhugh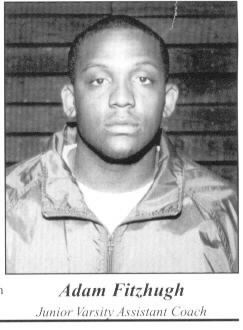 Coach Fitzhugh was born and raised in Compton, CA. He has been playing basketball since he was ten. Playing in different recreational leagues, Boys & Girls Clubs and travel-ball organizations. Fitzhugh attended Downey Calvay Chapel where under the tutelage of Coach Higashi and former Head Coach of Calvery Chapel, Mark Gruman, he went on to become a four year varsity letterman. Fitzhugh was team captain two years, 2nd team all league sophomore year and 1st team all league his Freshman, Junior, and Senior years. He was named honorable mention small school All-American. After high school, he went on to play at Long Beach City College wer he saw minimal playing time. He then decided to place basketball on hold and pursue a college degree.
Now currently attending Cal State University at Fullerton where he is majoring in Broadcasting. Coach Fitzhugh hs the time to learn another aspect of basketball. He will have the opportunity to assist Coach Higashi. This, his second year coaching, he feels very fortunate to be at BOHS and is excited and feels positive about the upcoming season.
Fitzhugh looks forward to having family and friends attend games this year including his sister, Mychilynn and his nephew Joshua. He currently resides in Anaheim wehre he has lived the last three years.