Brea-Olinda Boys Basketball
[Varsity]
[Junior Varsity]
[Sophomore]
[Freshman]
[Homepage]
Coach Rusty Ham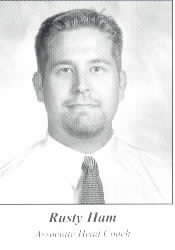 Rusty begins his fifth year as assistant varsity coach after helping last year's varsity to a 22-8 record. Once again, Coach Bob Terry has asked Rusty to be the defensive coordinator. The type of system Coach Ham implemented is a team-oriented defense, which has helped the varsity win four league championships in a row. Last year's varsity had seven football players, so it took awhile for the team to jell. Once league started, our team was full strength and running the system well.
Ham begins his 12th year on the BOHS coaching staff. After six seasons at the sophomore level, two seasons at the freshman level, and two seasons at the varsity level, Ham is ready to take on another great season for this year's varsity. Rusty is the youngest of four boys who all attended Brea Olinda High School. A 1988 graduate, he was a two-year varsity basketball letterman capturing the Team Captain award as a senior.
Ham began coaching upon graduation assisting the freshman squad at Sonora High School. Ham doesn't take credit for a 1-19 1988-89 season but does take credit for the following year when he took over the freshman team and proceeded to guide the Raiders to a 10-7 record, finishing third in league. Rusty was asked to come back to Brea for the 1990-91 season and has been here ever since. In his eight years of coaching lower level basketball at Brea, Ham has compiled an amazing 144-29 record with six league titles and two second place finishes as well as an undefeated season in the 1996-97 season with a 24-0 record.
Ham's philosopy comes two fold. First, you must always challenge youself to be better. One must NOT be satisfied with where they're at personally. Personal satisfaction comes when one sets goals and works hard to achieve them. Second, individual success cannot be accomplished without dedication to the team and its success. This will make for a better basketball player as well as a better person. Ham's track record of motivating his players to a high level of play is a testimony to this philosophy and he believes what is taught today will carry over into life after basketball.
Rusty is 33 and has been married to his beautiful wife Emily for 3 years. Rusty and Emily are also expecting their first child sometime in February. Rusty received his bachelor's degree in physical education from Whittier College and received his master's degree in Education with emphasis in Middle School from California State University San Bernandino. Ham currently teaches full-time Physical Education at Washington Middle School in La Habra. In addition to time spent in basketball, he and his wife have traded in their hockey gear in pursuit of a business opportunity with professional financial services.

Click the envelope for questions or comments about the website.