Brea-Olinda Boys Basketball
[Assistant Varsity]
[Junior Varsity]
[Sophomore]
[Freshman]
[Homepage]
Coach Bob Terry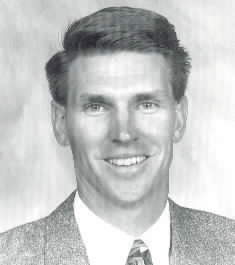 Bob Terry begins his tenth year of coaching basketball and his seventh at Brea-Olinda. In his first two seasons at Brea as the freshman coach, Terry won two Orange League titles and had an overall record of 43-2. He then joined as the varsity associate coach where he led the varsity to an Orange League title, two CIF semifinal appearances and an overall record of 50-9. In the last two years as the official head coach, Terry is 50-11, with two straight Orange League titles. Last year he led his troops to the CIF Championship game at the Arrowhead Pond. That was only the second appearance for Brea in a final. The last time the Wildcats made it to the finals was way back in 1961. For his efforts, Terry was named the Orange League Co-Coach of the Year, for the second straight year, and was also named Orange County Coach of the Year by the Los Angeles Times.
A 1987 graduate of BOHS, Terry was an All-Orange league performer in his senior season, finishing with 18 points and 9 rebounds per game. He guided the Wildcats to the league title and to a second round of the CIF playoffs where they were 4 points away from upsetting the #1 seed. After a two-year hiatus he enrolled at Fullerton Junior College wher he averaged 20 pointsa game in his two years of playing. He was a two-time All-Conference selection and in his sophomore season was selected to the All-State team. He is the fourth leading scorer in Hornet history and he still holds many individual records. He holds the school free throw record for percentage in a season (90%), in a career (89.5%), most free throws in a game (18), and most consecutive free throws without missing (36). Terry continued his career at Azusa Pacific University and in the 1992-93 season led his team to a 30-4 record and a #1 ranking in the country. Averaging 17 points and 10 rebounds a game he was named the NAIA District 3 Player of the Year and was selected to the All-American team.
Terry has had experience playing and coaching at many different levels. He coached at the junior high level for three years, high school for five years and was an assistant JV coach at Azusa Pacific for one year. No matter what level, Terry believes in these philosophies. First you need to work hard to achieve your goals on the court and in life. Always do your best and try to win. Be gracious win or lose and always keep a level head. Terry also believes in having the right mental approach to the game and not being one-dimensional. Good teams have every player contributing. Terry prefers to play an up-tempo game, but also realizes in high school you need to adjust your coaching style to the talen of your players. Terry has done a good job in the past of getting the most out of his players. His teams play hard, are unselfish, and know how to win in close games. Finally, and the most important, is teaching his players to work hard, be a good person and be successful in the future by using their experience in this program
Bob and his wife Dina have two sons. Christopher (7) and Matthew (2) and live in nearby Placentia. Terry received his bachelor's degree in sociology from Azusa Pacific and is working towards his masters in physical education, also at Azusa Pacific. He is beginning his fourth year of teaching. He teaches physcial education at Brea Junior High.

Click the envelope to email Coach Terry.