Brea-Olinda Boys Basketball
[Varsity]
[Assistant Varsity]
[Junior Varsity]
[Assistant JV]
[Sophomore]
[Homepage]
Coach Mike Reza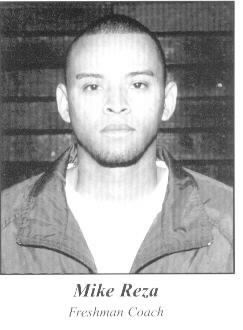 Michael is beginning his first year as a high school coach. He is looking forward to the challenge ahead of him. Although this is Michael's first year, he does have an extensive knowledge of basketball. He has been a counselor for Rose Drive Friends Basketball Camp, was a City of Brea volunteer for youth basketball, has coached Brea's Junior Varsity and Varsity Spring Leagues, and also has worked as an NJB referee. Michael hopes that the knowledge he brings can translate into coaching success.
A 1996 BOHS graduate, Michael was a member of a team that finished the season with a 24-3 record his senior year--a record that still stands as the highest winning percentage at BOHS. That year Michael was awarded the Ron Weiner Memorial Scholarship, awarded to the boys basketball player with a distinguished academic record. Michael won a three-point shooting contest at the Westmont Basketball Tounament in Santa Barbara. His junior year, Michael was named Team Captain of the Junior Varsity Team.
Michael believes that a successful coach teaches his players not only how to succeed on the court, but off it as well. He feels that playing hard, playing smart, and playing together as a team is a winning formula. Michael looks to develop the skills and attitudes of his players to help them not only succeed in basketball, but in life.
Michael is 24 and single. He currently resides in nearby La Habra. He is a graduate of Long Beach State University, where he received his Bachelor's Degree in Psychology with a minor in Marketing. Currently, Michael works as a sales representative for Verizon Wireless and is looking into pursuing his Master's Degree.