Brea-Olinda Boys Basketball
[Varsity]
[Assistant Varsity]
[Assistant JV]
[Sophomore]
[Freshman]
[Homepage]
Coach Greg Higashi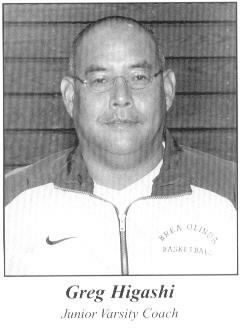 This season will be Coach Higashi's second season with the Wildcats at BOHS. He has coached for 12 years at various levels, Junior High, JV, Varsity, and Junior College. During his career, many teams were playoff qualified and state tournament qualified.
His belief that effort and hard work are ethics that transcend the basketball court and helps in the student/athlete to become a successful adult. He expects players to be on time, do things the right way and always give their "best effort." "I've always enjoyed seeing players after graduation and see what they have become," says Higashi. Many of his former players have become of his "extended family." Many have become working professionals, businessmen, college athletes and some even basketball coaches. Coach Higashi counts it a privilege to be in the profession he's in and having the opportunity to develop these young men.
Coach Higashi and his wife reside in Long Beach. His hobbies are golf, travel and watching basketball.